Fanny Bay Oysters Shucking Competition
Saturday, June 20, 2020
Registration is now open!
Join some of British Columbia's top shuckers at this growing competition, held during the BC Seafood Festival Signature Weekend, June 19-21, 2020 (the West Coast's largest seafood event), sponsored by the biggest shellfish producer in BC, Fanny Bay Oysters.
All Pre-Registered Approved Shuckers will receive:
2 tickets to attend Shucked! Oyster Bar Happy Hour on June 19;
and a chance to win the following prizes during the competition (June 20, 2020):
Prizes:
1st Place: $2500, plus a brag-worthy trophy, AND an automatic bye to compete in the Raspberry Point International Oyster Shucking Championship (including return air fare per diem, 3 nights' accommodation in PEI, and a $750 stipend). To learn more about the PEI International Shellfish Festival, the largest seafood event in CANADA, click here!
2nd Place – $1000
3rd Place – $500
Cleanest Plate – wins the coveted Fanny Bay Oysters Shucking Plate
Click here to view the competition rules.
2019 Raspberry Point International Oyster Shucking Competition Winner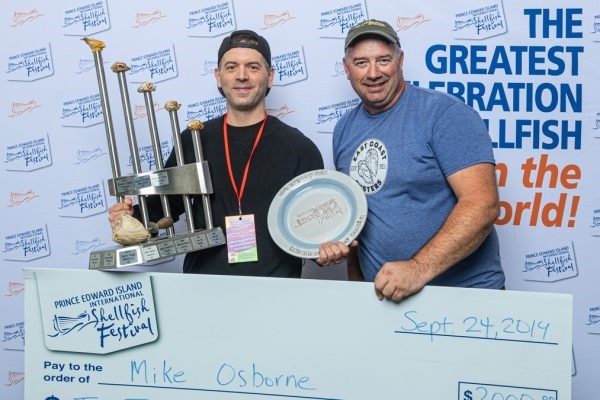 Congratulations to our BC Seafood Festival Shucker Mike Osborne, for his 1st place win at the Raspberry Point International Oyster Shucking Competition on Sept 24, 2019. Mike was our BC Seafood Festival Oyster Shucking Competition winner in June 2019, and part of his prize was his entrance and trip to the competition in PEI.
2019 BC Seafood Festival – Fanny Bay Oysters Shucking Competition Winner
Winner – Mike Osborne, Harbour Oyster + Bar
Second Place – Johnathan Merrill, Salt & Earth Catering Co
Third Place – Calvin Shiu, Fanny Bay Oyster Bar